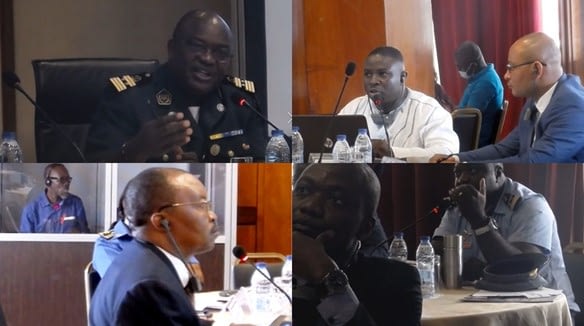 Hybrid: Yaoundé, Cameroon; London, UK; Valletta, Malta
In November 2020, the IIJ convened the final phase of its IIJ Investigations Initiative: Multi-agency 'Intelligence-led, Evidence-driven' Counter-Terrorism Investigation capacity-building programme. Generously supported by the United Kingdom's Foreign Commonwealth and Development Office, this phase engaged practitioners in a debriefing exercise to reflect on the effects of the training and practical exercise undertaken during Phases 2 and 3 of the programme.
A two-day module for twenty-one senior Cameroonian criminal justice practitioners from the Military Tribunal of Cameroon, the Ministry of Justice, the National Security Police (DGSN), Gendarmerie, the National Intelligence Services (DGRE), and the National Agency for Financial Investigation (ANIF) was held in Yaoundé with IIJ staff joining remotely from London and Malta. Practitioners engaged positively and identified key actions to meet the programme's objectives: 1) interoperability between agencies engaged in investigation and prosecution; 2) operational management of parallel intelligence and evidential investigations; and 3) gathering and securing evidence for successful prosecution.
Practitioners provided insight into positive developments that they directly attributed to the programme. Operationally, a multi-agency Joint Investigation Unit had been established while the Head of the Gendarmerie Training Academy reported that the lessons learned during the programme have already been introduced into the training curriculum for all new officers.
On the second day, each agency group outlined their next steps for improving their approach to 'Intelligence-led, Evidence Driven' Counterterrorism Investigation in accordance internationally-recognised good practices and recommendations articulated within the Global Counterterrorism Forum (GCTF) Rabat Memorandum on Good Practices for Effective Counterterrorism Practice in the Criminal Justice Sector, Recommendations for Using and Protecting Intelligence Information in Rule of Law-Based, Criminal Justice Sector-Led Investigations and Prosecutions (elucidating Good Practice 6 of the Rabat Memorandum), Abuja Recommendations on the Collection, Use and Sharing of Evidence for the Purposes of Criminal Prosecution of Terrorist Suspects as well as the UNODC's Practical Guide for Requesting Electronic Evidence across Borders.
For more information on this workshop or the IIJ Investigations Initiative, please contact Senior Investigations Adviser Philip Tucker.